Project Goals
Immediate
Equipment status identification
Feed rate prediction from energy
G-code interpretation
Mid-term
G-code interpretation and energy prediction
Equipment anomaly detection
Realization of developed methodologies - IIoT
Long-term
Real-time energy monitoring
Real-time anomaly detection
Equipment's operations optimization
---
IIoT Dashboards
Real-time energy data from FANUC ROBONANO located at MINLAB - Energy Monitoring Dashboard
Real-time anomaly detection of FANUC ROBONANO located at MINLAB - Equipment Status
---
Why do we do it?
Manufacturing is responsible for almost 45% of total energy consumption in the US and a similar portion in other countries. Machine energy consumption accounts for a big portion of 45% and thus understanding how machine tools consume energy helps to minimize energy consumption by design optimization of the machine tools, strategic operation control, energy balance on the production line, and energy footprint and control of supply chain. Monitoring and control of horizontal and vertical integration of total manufacturing infra can be achieved by IIoT (Industrial Internet of Thing) with a similar manufacturing paradigm called smart manufacturing, digital manufacturing, and industry 4.0.
More details
---
Some Case Studies
Identifying the equipment state just from the energy consumption data.
Setup for data acquisition
Development of application to correlate the G-code with equipment's energy
Framework for model development and training
Inference on edge and/or cloud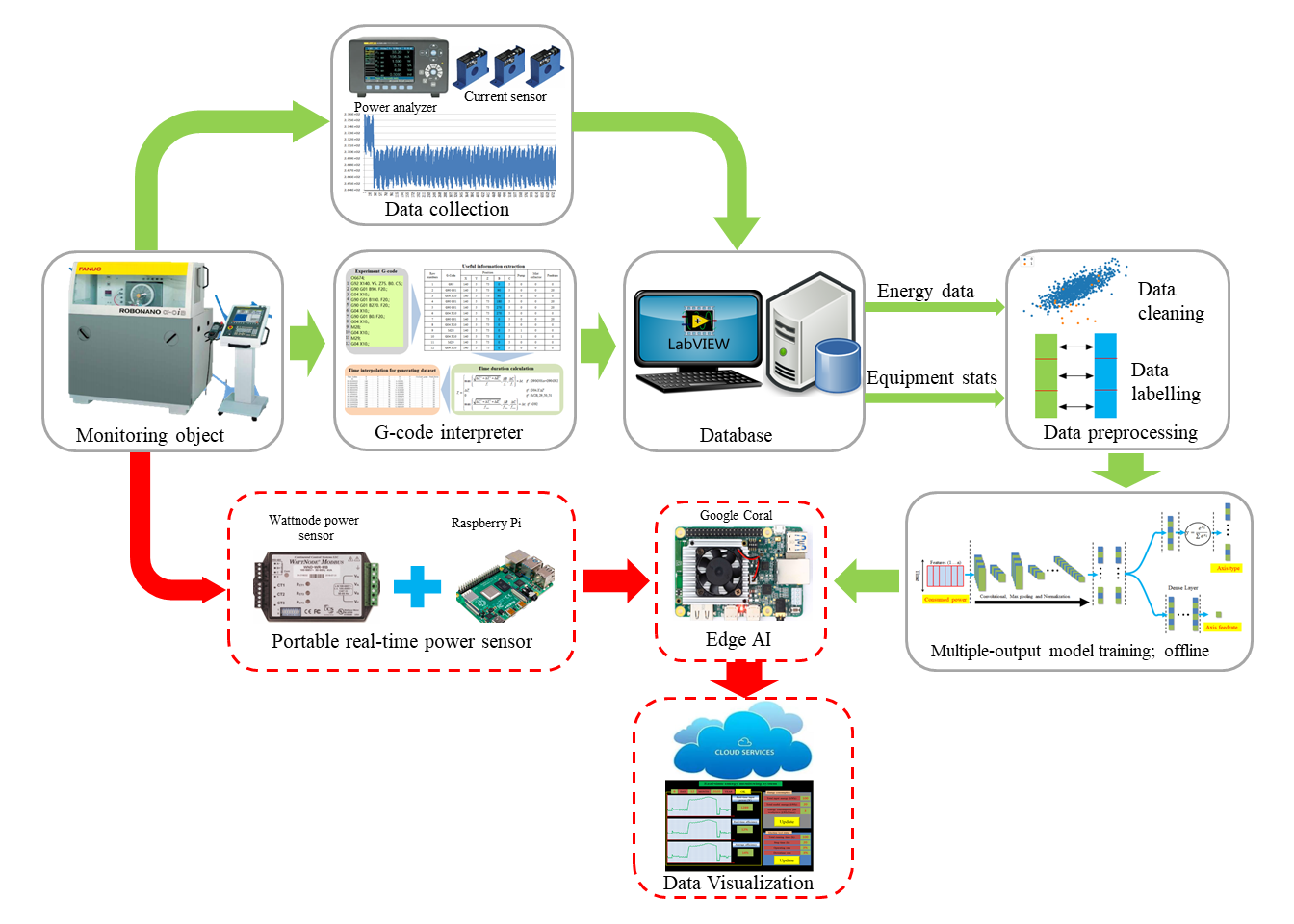 A real-time anomaly detection system for manufacturing machines.
Custom designed DAQ device to retrofit the CNC machines
Data pipeline design to handle, process and infer at AWS cloud
Correlating the energy components with the anomaly identification capability
Open sourced the code for further development - https://github.com/vigneshuw/machine_fault_identification
Current Work - Reinforcement learning approach to enable model monitoring and model updates in real-time ---
---